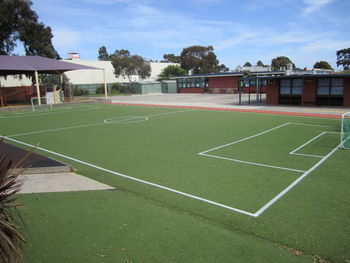 Playground Marking Melbourne
For straight and curved lines perfect for playground marking Melbourne councils throughout the city can trust the experts at Brimbank Line Marking. Made to last and available in a wide range of colours and styles our resilient playground line marking holds its colour and composition throughout thousands of recesses and lunchtimes, guaranteeing that kids of all ages can get the most out of their local park.
Able to be applied to multiple types of surface including asphalt, concrete, and crumb rubber our line marking outlines playing areas and can be applied in a number of custom shapes and layouts including hopscotch, four-square courts, and other patterns to make playtime fun! Made from environmentally-friendly materials our playground marking applications are not harmful to playground users. Besides setting up the park for play Brimbank Line Marking can also apply safety and warning markings to help keep all users of playground equipment safe.
As a family-owned business you can trust Brimbank Line Marking to deliver the best results for the best price. To speak to our experts about playground marking Melbourne councils should drop us a line today on 0422 336 606.
NEVER GO OUT OF BOUNDS AGAIN WITH OUR SPORTS LINE MARKING!
Sports Line Marking Melbourne
Make sure you know your boundaries when on-field thanks to the expert team at Brimbank Line Marking. Highly-visible and drawn to competition and regulation specifications our accurate sports line marking ensures that there are no arguments over who was "in" or "out". Thanks to our precise sports line marking Melbourne sports grounds, indoors and outside, can be played on with ease and without guessing where the lines should be.
We're just as good on the field as we are off of it. Brimbank also specialises in turf treatments for sports fields both in and out doors. We can paint an entire field quickly and effectively or we can remove and replace current lines and give your field a crisp new look. Call for any type of field including:
Football fields
Soccer fields
Cricket Pitches
Basketball courts
Net ball courts
Badminton courts
Volleyball courts
Tennis courts
Make the right choice for your sport of choice and trust the modern and long-lasting line marking solutions from Brimbank. To find out more about our superior sports line marking Melbourne sporting venues, gyms, and clubs should get in touch with our helpful team today..